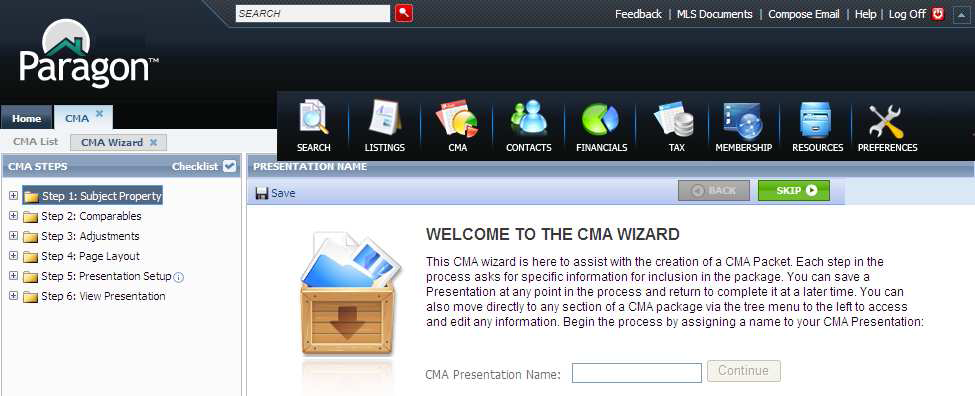 Paragon's CMA (Comparative Market Analysis) module is a powerful tool that offers you access to MLS data and provides graphic presentations of subject properties' and comparable properties' data. You can build a simplified CMA of a Subject Property with comps or a complete CMA Marketing Packet, or anything in-between. There are up to six steps to create a CMA; using the CMA wizard simplifies the process and ensures that you have worked through the steps you need for any particular CMA. You can also directly access any element of the CMA by using the tree structure found on the left side of the CMA wizard or the Checklist.
Paragon's CMA has the following elements:
CMA creation wizard with progress indicators
Go-to module tool for editing
Agent image
Office logo
3 cover letters
3 agent resumes Company info
Final comments
Comparable property adjustments
5 different presentation themes
Summary of adjustments
Horizontal comparison report
Vertical comparison report
Comparable property statistics
Comparable price analysis
Seller's net
Subject and comparable property mapping
Printing/E-mailing of CMA packet
A CMA is the merging of three basic modules in Paragon:
Subject Property Listing Input – entering or importing your subject property into the CMA module.
Contact Manager – entering the seller information into Paragon or associating the CMA with an existing contact.
Property Search – finding properties comparable to your subject property to show current market conditions as you create a pricing strategy for selling a property.
Click Help for additional assistance in creating a CMA. Help files contain Quick Start Guides, training videos, live webinar registration, and recorded webinars.