The third step in the CMA process is to make adjustment to the comparable properties value to remove or add, as much as possible, the differences between your subject property and the comparable properties. By using fair adjustments, you can determine the current market value of the subject property.
Note: Adjustment values are unique for each MLS, board/association, city, subdivision, etc. Economic conditions in your specific area determine the fair market adjustment values. Work with your broker, a trusted REALTOR® and/or appraiser to create a list of adjustments for your specific market niche.
Below is a sample adjustments worksheet. You can add or subtract (-) a value.


Making adjustments to an existing field – to adjust the value of an existing field, I.E. "bedrooms" a common field in a residential property worksheets. If the subject property has 4 bedrooms and the comparable property has 5, use the bedrooms field to reduce value of the comparable by a local, fair market dollar amount.

Click Add Manual Adjustment to add adjustment fields to the worksheet. Your cursor will move the blank adjustment label. Enter a description for the adjustment and hit tab to move to the associated dollar value field. Enter the dollar value for the adjustment.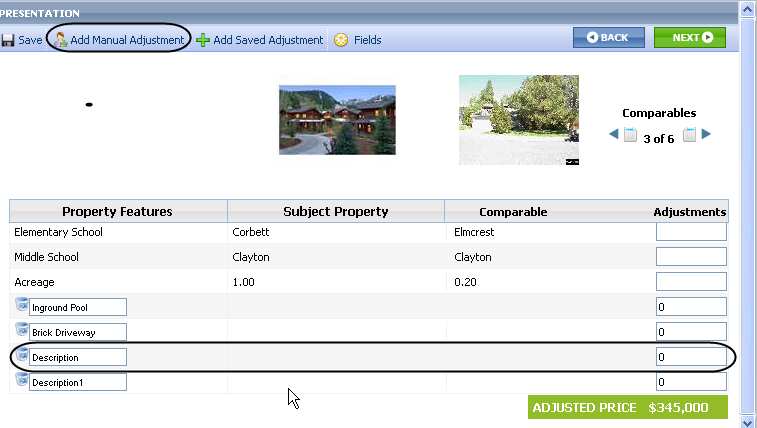 Note: There is no limit to the number of adjustments you can add. If you add a lot of adjustments, some the adjustments may not be visible on some of the CMA reports due to page formatting. Although not all of the adjustments may be displayed, the adjusted price for the comparables will be calculated correctly.
Saved Adjustments allows you to select from a list of adjustments you have previously created. Click Add Saved Adjustments. The Saved Adjustment modal displays the list of adjustments. To add a Saved Adjustment, click the adjustment's name and then click OK.
Once you have added a Saved Adjustment, you can change the adjustment's value to a different dollar value and/or change it to a negative value with a minus sign before the dollar value.

Below is an example of a Saved Adjustment modal.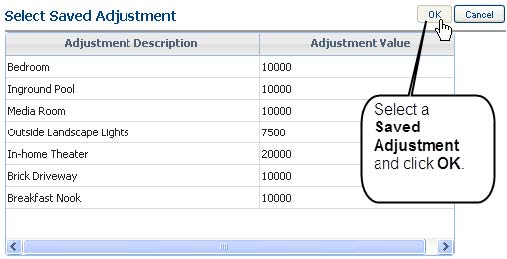 Note: To create adjustments, click Preferences. Under Preferences click on CMA and then Adjustments. For more details on creating Saved Adjustments, see the Preferences Quick Start Guide on this topic by clicking Help in the upper right hand corner of the Paragon Window.
Fields allows you to edit the worksheet field list (add or remove fields and/or move fields up or down). On a CMA-by-CMA basis, you can customize the displayed fields.

Note: You customize the CMA worksheet like a Paragon spreadsheet.
To move between comparable properties, click the arrowheads, either to the left (backwards) or to the right (forwards) of the comparables counter (3 of 6).

Click Save to save your CMA with its current content.

Clicking NEXT will take you to Step 4: Page Layout.