Selection Process
ListHub hand selects publishers for inclusion in the ListHub network. Online publishers are selected based on the value they bring to brokers. Our company receives inquiries from hundreds of companies each year who wish to become a recipient of broker listings via the ListHub platform, and fewer than one in ten are found to be eligible based on our stringent vetting process. Ultimately the publisher must agree to a contract that contains very specific terms around the management and use of the brokers' listing data in their system. Those companies that do not offer any consumer advertising value to the brokers on behalf of their clients are deemed ineligible immediately.
Contract Terms
ListHub has agreements in place with our publishers to provide consistent protections for members' listing data. ListHub worked with the industry, including brokers, MLSs, consultants and others, to identify the core values and expectations that listing content owners have with respect to the use of their listing information when syndicated to a third party website. Based on this feedback, we implemented a new agreement with tighter restrictions in 2011, and since that time, as each of the publishers in the network came up for contract renewal, the new agreement came into effect. Brokers should be encouraged to provide their listing data to publishers through a managed, online advertising platform that provides participants with guidelines for the use of their data. Brokers who use other platforms or provide their data directly without an agreement in place are subject to the publishers' broad terms of use that do not provide adequate protections for the listing data. Most of the publisher website's Terms of Use grant the publisher full and perpetual rights to the listing content with no limit on the way the listing data can be used. The ListHub contract supersedes the publishers Terms of Use and limits the scope of use for the listing data. Many listing distribution services are just now considering these contractual terms and protections but ListHub is far ahead of the curve in this respect. Some of the core tenets that exist today in the ListHub Publisher agreements:
Listing data must only be used for consumer display, advertising purposes only.
Listing data must not be used to create derivative works or for other non-display uses.
Listing data must be removed and not used when the property is not under an active or unmarketable status.
The broker maintains all intellectual property rights.
Publishers must display a set of minimum fields including price, address, broker name, etc.
Publishers must accept and display only the ListHub broker-authorized, MLS-sourced listings as they are the highest ranking listing feed and cannot overwrite this data with listing data from a third party.
Publishers must route any consumer leads to the email address or phone number designated by the broker.
Publishers may not re-syndicate or distribute listing data to any third party. – Publisher may have rights to power the search on a third party site if authorized in the agreement.
Publishers must update and refresh listing data at least once per day.
Publishers must provide notice for any changes to its Terms and Conditions.
Publishers must abide by any state laws regarding display of real estate content.
Publishers must provide error logs for any listing that is not accepted.
Publishers must provide a direct URL for any listing that is accepted and displayed.
Publishers must provide details on search impressions, detail views, and lead data for all listings (most use ListHub's java script tracking technology but a limited few still provide file-based metrics on a daily basis).
Brokers have no long-term commitments and retain the right to opt-out at any time.
Publishers must use the currently supported version of the RETS Syndication Specification.
New Publisher Announcement Process
ListHub has a standard announcement procedure for new publishers that positions the MLS to provide feedback and leadership in the process. New publishers, once fully vetted and under contract with ListHub, may not go live in the ListHub dashboard (visible to brokers or agents) until ListHub first announces to the MLSs, and provides a 10-business day review period to the MLSs. After the 10-day review, the publisher will be made live in the ListHub dashboard for brokers to select and will be announced to the brokers. Each 10-day advance publisher announcement is sent to MLSs in a dedicated email. The MLS and Broker newsletters also contain a summary of all new publishers each month.
National, Regional, and Affiliate Publishers
National Sites: National sites are available to registered brokers for all MLSs nationwide.
Regional Sites: Sites of regional appeal, which are available to brokers in selected markets where they are applicable.
Affiliate Sites: Some specialty publishers require a pre-existing (sometimes paid) relationship with the broker in order to accept the broker's listings. In this case, the affiliate publisher provides individual brokers with an affiliate code that will enable the publisher in the ListHub dashboard, allowing the broker to choose the publisher. For example, Listings-To-Leads is a publisher that facilitates posting listings to craigslist. Brokers must purchase the Listings-To-Leads product, and then they will be able to use ListHub to send listings to the site.
View all national, regional and affiliate sites
Exclusive Sites
ListHub has formed numerous specialty relationships that support the unique needs of specific brokers. Several of the ListHub Publishers are exclusively available to brokers through the MLS's relationship with ListHub:
KWLS (Keller Williams Listing Service): Keller Williams requires all of their agents to enter listings into the company's back-office system, the KWLS. ListHub provides KW offices with an automatic feed to populate this system directly from the MLS. KWLS is an affiliate publisher only available to KW offices.
HomePath.com: Fannie Mae's official consumer website is powered by ListHub. Brokers who list Fannie-Mae owned properties are required by Fannie Mae to register for a ListHub account, which enables Fannie Mae's listings to automatically post on Homepath.com.
HomeSteps.com: Freddie Mac's official consumer website is powered by ListHub. Brokers who list Freddie Mac owned properties are required by Freddie Mac to place the listings on Homesteps.com.
The Real Estate Network: Franchise websites are permitted to participate in the ListHub network to receive listings from brokers who wish to advertise their listings on the national franchise websites. Currently the following franchises participate in REN: RE/MAX, Coldwell Banker, Century 21, and Realty Executives International.
Fannie Mae and Freddie Mac
Fannie Mae: Fannie Mae, as one of the nation's largest home sellers, has organized a sophisticated program for maximizing their opportunity to sell the properties that they own as quickly as possible, and have partnered with ListHub as the data partner to support their program. Their goals are two-fold. First, they wish to expose their listings on as many consumer facing websites as possible, including their own site Homepath.com. Second, they wish to provide the agents who list their properties with a set of online tools that include electronic offer management for their properties.To accomplish these goals, each broker who lists Fannie Mae properties must hold a ListHub account, so that ListHub can scan all properties and match the listings in the ListHub listing inventory to the listings in Fannie Mae's database. Once matched, the listings that are identified as Fannie Mae properties are syndicated according to Fannie Mae's directive to all publisher websites. In addition, these sites are sent to Homepath.com so that the agents can leverage the electronic offer platform to complete the sale of the home.
Freddie Mac: Freddie Mac requires that all of the brokers and agents who list properties they own enter these listings onto Homsteps.com. ListHub provides an automated feed to fulfill this requirement in a way that ensures the listing information is updated from a reliable data source (MLS). Brokers must register for a ListHub account and enter an affiliate code in their account settings to setup theHomesteps.com publisher option.
Extended Publisher Networks
Many publishers have extended networks that make the listing data viewable through numerous additional sites. These extended network sites are 'powered by' the primary publisher. When consumers search for listings on these sites, they are redirected back to the primary publisher to view the listing information. The listing content is never re-distributed or 're-syndicated' to the extended network of sites. It remains in the control and on the servers of the primary publisher. This concept is often confusing. Here is a detailed description of the two models, and the risks and rewards of each:
"POWERED BY" Many publishers "power" the searches for secondary publishers (extended network sites). It is critical to understand that the listing data never leaves the primary publisher's database. The search box on a "powered by" site allows the consumer to enter their search criteria and see the search results on the primary publisher site. Usually, the extended network site displays the data from the primary publisher in a framed and branded experience much like a smart framed IDX solution."Powered by" is an accepted practice in our industry. It extends the marketing reach and controls distribution of listings data. As an example, Homefinder.com is known for powering more than 400 local newspaper websites across the country. Listings are displaying on the newspaper sites in exactly the same way that they appear on Homefinder.com. It is imperative that primary publisher sites disclose the extended network sites they power so the broker is fully informed about the sites where their listings can be viewed. ListHub users are able to view the complete list of powered sites or extended network for each publisher in the ListHub dashboard.
"RE-SYNDICATION" "Re-syndication" occurs when the primary publisher sends the raw listing data to a secondary publisher (sometimes to drive traffic back to the Primary Publisher). This practice removes control of the listing data and generates consumer traffic that is not reported. It creates inaccurate, stale, and duplicated listing data. The data is uncontrolled and provides is no clear path to correcting inevitable errors.ListHub has taken the position that the primary publishers are not permitted to re-syndicate listings to other sites.
View the ListHub Extended Network spreadsheet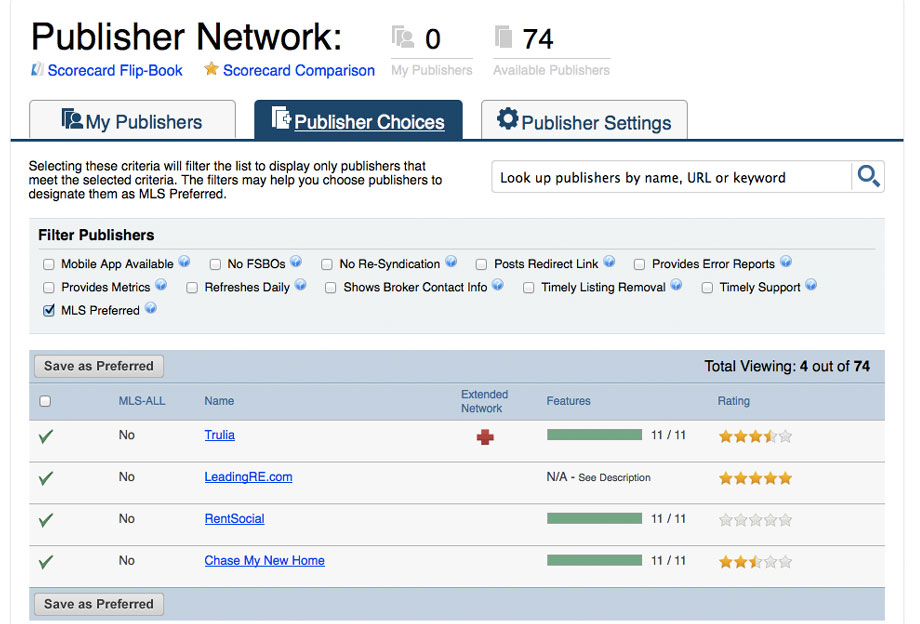 The Real Estate Network (REN)
The Real Estate Network is an extension of ListHub sites that includes websites operated by real estate franchises and other similar full-service membership driven broker networks. The Real Estate Network was launched in February 2012 in response to MLS requests for a utility that would allow brokers to easily and individually opt-in and opt-out of displaying their listings on these types of websites. REN Participants include: Century21.com, ColdwellBanker.com, remax.com, and RealtyExecutives.com. REN Participants must adhere to a common set of display rules, making it easy for all parties to understand what to expect and what the exchange of value is for participants. The display rules are available for review online. Click here to view the REN display rules. REN participant websites are required to submit traffic data to ListHub for display in the ListHub reports. The traffic from these sites is not reported individually; rather, the number of views and inquiries is reported in aggregate as a single line item in the report, "The Real Estate Network." National real estate franchise sites often get confused with broker IDX sites. Real estate franchise sites have a national focus, or a large regional focus where the franchise has affiliate offices, and are not specific to a particular market area. These sites are operated by the franchisor for a brand, rather than by a franchisee. In contrast, Franchisees, or Broker/Owners operate IDX sites with a local or market-area focus and display listing content from the individual MLSs they participate with. To fully understand the difference, it is helpful to review the history.
MLS IDX policy is promulgated by the National Association of REALTORS® (NAR). Even MLSs that do not specifically adopt the NAR IDX rules often adopt similar versions. Brokers are restricted from advertising another broker's listings without specific permission. IDX policy sets conditions and permission to authorize participants in a single MLS to display and advertise listings from other participants in that MLS. Brokers that participate in the MLS IDX program receive this permission and grant the same to other IDX participants.
There was a time when the NAR IDX policy recognized national franchise sites as authorized IDX participants and allowed these sites to display IDX listings under that guidance. In 2011, several groups studied issues with franchise IDX participation and determined that these national franchise sites were more similar to other national publishers and should not continue to be recognized as IDX participants. In January 2012, the NAR IDX policy was changed to exclude national franchise sites from receiving and indexing IDX sourced listing data on their sites. The group recommended that national franchise sites receive listings from online advertising platforms in the same manner that other national publishers do.
This change impacted the method these national franchise sites used to obtain listing content to display on their sites. Since they were unable to receive IDX data feeds from MLSs, they shifted to receiving aggregate listing data through the Real Estate Network from brokers who choose to send their listings to these websites. This model provides brokers with the ability to decide which specific national franchise sites to advertise with as they do with other national advertising destinations.
MLS REN
The core function of the REN is to provide listing content owners, such as brokers, with a voluntary option to advertise their listings on industry websites within a specific set of rules which serves as a framework for the value exchange between the owner of the content and the publisher of the website. The MLS REN Rules were formed based on input from a broad set of industry participants, including brokers, MLSs, and The Realty Alliance. To review the MLS REN display rules click here.
MLS REN Publisher Network:
HAR .com – Houston Association of Realtors
To learn more visit our MLS REN FAQ page.
International Advertising
The number of real estate transactions taking place across national borders is increasing, and more than 30% of these transactions are between non-U.S. residents who purchase property within the United States. This has created a need for brokers to gain access to services that help them to connect with home buyers in other countries. Marketing real estate overseas adds layers of technical requirements, including the need to translate listings from English into other languages, and the need for currency conversion to all of the existing complexities of advertising within the US. ListHub launched ListHub Global in 2013 to provide a path for brokers to take part in these international advertising options, if they choose, in a way that is supported by the broker's settings for lead management and traffic routing, and which also protects the brokers' listing content on property search websites around the globe. The ListHub Global Network, powered by ListGlobally, brings brokers an expansive group of websites and countries where their listings will be displayed worldwide. The complete list of websites in the network continues to grow each month as new portals are added to the networks. The complete list of websites and countries represented are available on ListHub.com.