A Hotsheet search will give you listing results of what is new and/or the latest changes in the MLS inventory for your particular search parameters. Search criteria can be based on date(s), status, class, price, area, or per a listing office. Note, only changes made to a listing within the "Hotsheet" guidelines determined by your Board or Association will allow that listing to make the Hotsheet report. The results of your search can be displayed in many different types of reports. The Hotsheet Report Spreadsheet is designed to give you information about the listing and, if any, Hotsheet Remarks made by the listing agent of an existing listing that has changed.
The Hotsheet Search screen is set up with a set template of fields and date ranges. You can set a default template of field values for yourself based on your preferences. For instance, the date range default is set to look back 7 days.
Below is the typical search screen used for a Hotsheet Search.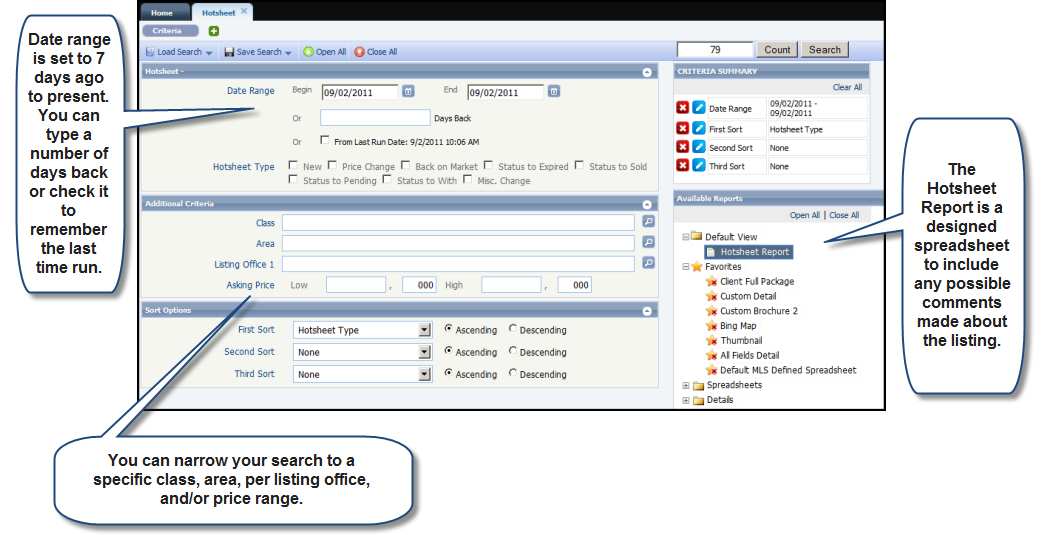 If you choose to select the "From Last Run Date" option, the system will remember the last time you ran this search and give it a time/date stamp. Then you get results from that date until the next time you click Auto-Hotsheet in the Search drop down menu.
Results:
Once you have your search criteria loaded, click Search to get results. The default report will probably be the Hotsheet Report. It is a type of spreadsheet designed to give you the listings but also any other special comments made by the system or by the listing agent. You can change to other reports/spreadsheets in the report section. It is possible that a listing could show up more than once in a Hotsheet Report. It depends on what changes were made to the listing and what changes or "triggers" the Board/AOR for your MLS decided on that makes a listing a "HOT" listing.
The idea of a Hotsheet Search and Report is to quickly find the latest inventory that is new, back on the market, price changes, status changes, etc that your Board/AOR has decided makes a listing "Hot" in your market.